The Ekdahls
The Ekdahls represents my grandfather and have their roots in Skåne which is in the Southern part of Sweden. It is the agricultural centre of Sweden. They were concentrated to Kristianstads Län and particular to the parish of Nosaby and suroundings. The Ekdahl family has the mixture of farmers and military people.
My grandfathers father emigrated to USA 1919 and started to work in the shoe-industry in Brockton Mass. He than moved to New York and became a scowcaptain for a ship which had cargo up the Hudson River. He is burried in Brooklyn New York 1939.
Karl Ekdahl son of Lars Persson Ekdahl emigrated to Wisconsin and was working as a carpenter untill he died in an accidental drowning. He was a very good musician and played harmonica before he left Bergen where he was living some time.
John Ekdahl son of Lars Persson Ekdahl emigrated to Winnipeg 1929 and was heading for digging gold up north. He died 1988 in Vancover Canada.
The name Ekdahl was built up for many years when an ancestor was going into the military service. The military people could not keep a track of any more soldiers with the same name so they asked him to combine his mothers name Ek and his fathers name Dahl which became Ekdahl or a free translation ''Oakvalley''.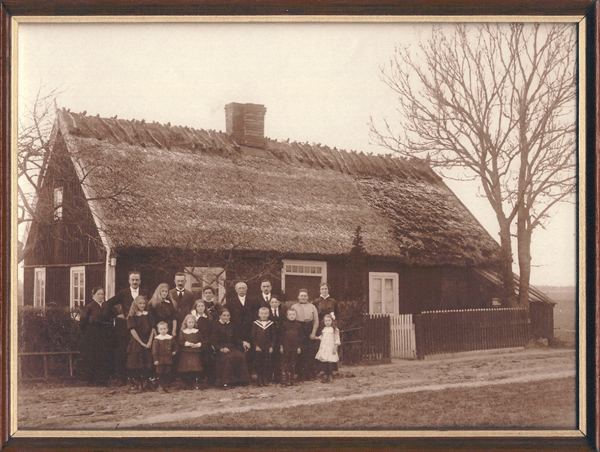 Per Fajersson-Dahl and his wife Karna Svensdotter with their sons Fajer and Sven with families. And also their daughters Maria and Sigrid with their families. Most likely it is year 1915 when Karna got 75 years old.
Arvid Ekdahl second from right