The Viktor family
The Viktor family were coming from the South of Sweden called North East Skåne. The places where you find my relatives are Höganäs, Säby, Halmstad By, Helsingborg, Billesholm, Kågeröd and Ottarp.
They were a mixture of farmers, soldiers, miners and industrial workers. Gustaf Jönsson Viktor was brought up at a farm Gluggstorp, Ottarp but due to hard times he had to go into military services in Helsingborgs Garnisonen. His son Carl Viktor went into the coal mining industry in Billesholm. My grandfather William Viktor also carried on in the coal mines in Billesholm but switched over to be an industrial worker at Gullfiber.
Billesholm was after Second World War a very important community with 3500 inhabitants mostly tied up to the company Höganäs-Billesholms AB. Nearly everything was owned by the company for example the grocery store where the workers could buy on credit. It was also a very important railway junction. Billesholm Mine produced about 88000 ton coal. After retionalization the Billesholm Mine was closed and Gullfiber was started up to secure some jobs for the damaged Billesholm.
Gustaf Jönsson Viktor with his stepson Ernfrid Reinhold and his wife Josefina Desideris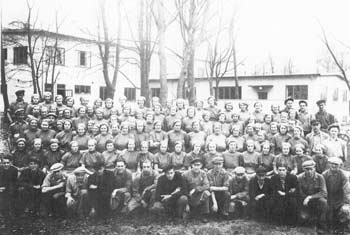 Glasullsbolaget 1936. My grandfather William Viktor 7th from the right.
Husaran, The Miners house i Billesholm